How many times I've assigned myself a shoting? Countless, as countless are the days I've spent sitting in the snow, walking under the rain or waiting under the harsh august sun just for a frame, just for a click to freeze an instant in the camera.
I don't know personally Donald Miralle and I was not in Kailua Kona but I feel like this award won by the talented Donald Miralle is also an award to all those self-imposing assignment photographers. The ones travelling the world with no budget chasing theyr shots.
We don't travel first class and we don't have a VIP pass to the paddock but we rock. Well done Donald.
❦
The photographer Donald Miralle just won the category of Sports Action Story of the World Press Photo with his shooting at the IronMan of the Haway.
Donald Miralle writes on his blog: "It was extra special to me because it was a feature that went mostly unpublished as it was a personal and self-imposed assignment that I had wanted to undertake […] It was a completely self-funded endeavor with no guarantee that I was getting paid for it. I used all my frequent flyer miles to fly out my family and I."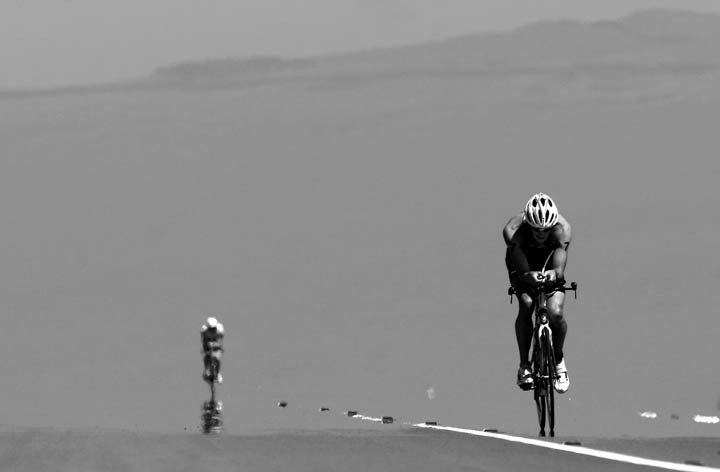 Photo by Donald Miralle
"THE IRONMAN WORLD CHAMPIONSHIPS" – KAILUA-KONA, HAWAII – OCTOBER 10
Professional Triathlete Andy Potts of the USA #7 bikes through 60mph crosswinds on
Queen KaÕahumanu Highway during the Ironman World Championships in Kailua-Kona,
Hawaii on October 10, 2009. Potts finished in 9th place overall.
Read the hole story of Donald Miralle's winning photos here.